CANTEK Model HB-900-HA 35-1/2" Vertical Band Resaw
One Used CANTEK Model HB-900-HA 35 1/2" Vertical Band Resaw FEATURES
•Heavy fabricated steel main frame 
(No pit required as frame is high 
enough to support bottom wheel up 
off the floor)

•Cast iron table (55" x 33-1/2") 

•Resaw linebar fence - Double column 
supported for extra rigidity - It 
tilts to 45 max.

•Variable speed feed roll system 
- Reversible 
- Air tensioned and quick open 
- will swing open for extra large 
or wide material feeding

•Heavy duty guide system easily Height 
Adjusted for maximum blade support 
into the cut.

•Auto blade lubrication system 

•Blade tension easily adjusted and Set 
- Spring tension

•Foot Brake for braking wheels and 
blade

SPECIFICATIONS

Band wheel diameter 35 1/2" (900 mm)
Table size  55-1/8" x 33 1/2"
Table height from floor	40-5/8"
Max. height under guide	15 3/4"
Blade length  232 5/8" ~ 236 1/4"
Width of blade	5"
Max. distance from fence to 
blade 14-5/8"
Max distance from feed roll to 
saw 12" Dust hood dia.4" x 2
Air pressure 80 psi (5 kg/cm2)
Feed speed (variable) 26-105 FPM
Main motor	30 HP
Feed motor	2 HP
Blade speed	7500 FPM
Machine weight	3850 lbs.

Machine dimensions 78" x 48.43" x 100.00"
Shipping weight	4400 lbs.
Shipping dimensions 104.33" x 57" x 86.6"
Electrics 460/3/60

Machine will be cleaned and test run 
prior to shipment. Serial #08426.  
See photos of CANTEK Model HB-900-HA 
35 1/2" Vertical Band Resaw on 
our web site.  
Inventory No. 12354.  
Located at our Portland, Oregon facility.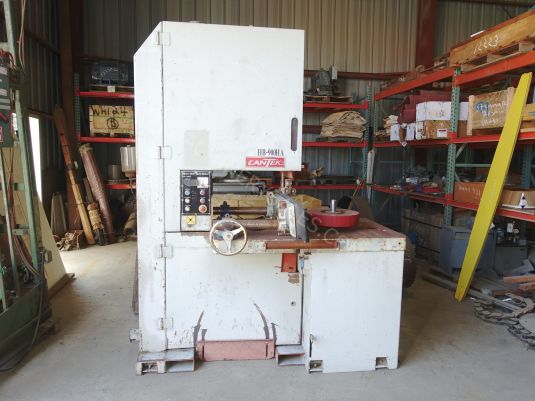 Click thumbnails below to view larger image: